Food Sterilization validation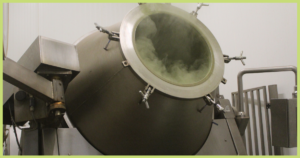 To guarantee the quality and efficiency of an agro-food sterilization process, the validation protocol is an essential step. Its' purpose is to demonstrate the perfect mastery of the different stages. Let's find out more specifically about the sterilization of food products with low moisture content.
What is a validation?
A validation is a protocol making it possible to prove that a machine is capable of significantly reducing a pathogenic load present on a product.
A validation is valid for a machine, a product (one quantity per batch) and a germ. If one of these 3 parameters is changed, for example the amount of product in the machine or the type of germ, validation can no longer be used.
What repository for validation?
A few years ago, the Almond Board of California drafted a protocol that describes in all its stages the procedure for validating the reduction of salmonella on a given piece of equipment on California almonds.
This protocol was approved by the USDA and is now used as a model for other products and other germs. It has no value with the authorities of the countries, but it is a benchmark well accepted by the quality services of companies.
For salmonella a surrogate is used. Surrogate (Enterococus faecium) is a non-pathogenic germ, more resistant than pathogenic salmonella.
In addition, other germs, heat resistant for example, can be used as part of a validation to demonstrate the effectiveness of the thermal process on their reduction.
Which principle for which result?
The principle, summarized in a few steps, is as follows:
Samples of the product to be pasteurized are sent to a laboratory for inoculation with the germ surrogate. This inoculation should exceed 7 log.
The samples are placed in the matrix, the product to be pasteurized. The pasteurization recipe is launched with the quantity of product that will be used in production
This operation is carried out 3 times, each time with renewed inoculated samples.
All pasteurized samples are sent to the laboratory for analysis.
The almond board protocol stipulates that a reduction of at least 4 Log (division by 10,000 of the target germ) should be obtained for all samples processed.
Writing a full report detailing the entire procedure concludes the protocol. This report is available to the company's quality department who can use it for internal purposes or produce it in the event of an external audit of its customers.